Dell have launched Della - a website for women and how their computers can help enhance their lives by looking cute, fashionable and help them count calories.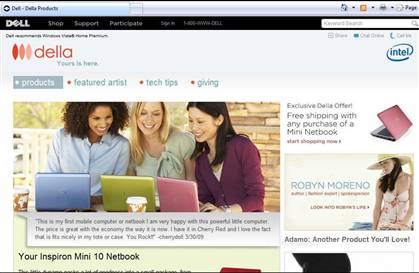 Look above, at how the happy women, sit closely together with their pastel coloured laptops and share laughs, horopscopes and no doubt, are on Cosmo online, gleaning pearls of wisdom on how to make their relationship work.
Puts me in mind of one of my favourite Harry Enfield schetches - Women know your limits
So, how can I expect to benefit from a netbook as detailed on the Della site?
Well, once I get beyond how darn cute they are I can easily find recipe's, count calories, watch fitness videos and ensure I shop successfully at vintage clothing stores. Then there is the accessories section - where I can shop to my hearts content.
Oh dear...why are women seen as a specific niche audience when it comes to technology, who need to be given child-like tech tips like morons?  it's....well....its just plain insulting.
Note to self - do not ever do this in recruitment.
So, which colour is your favourite? I just can't decide!