Every now and then you come across a site, a white paper, a new technology etc that makes you a bit excited and you wonder how you can use it or tailor it for your company and clients.
I came across the site http://www.web2summit.com/web2009/ the other week, late in the evening and was on it for a good few hours until I had to go to sleep.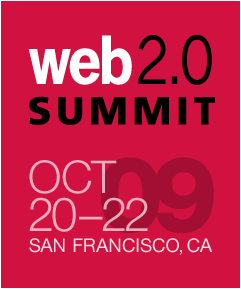 The site details the Web 2.0 summit that happened in October in San Francisco. The summit is organised by the guy who coined the web 2.0 term- Tim O'Reilly.
Web 2.0 has become Web squared - all about collective intelligence, and the web integrating with the physical world. 'The Web is no longer an industry unto itself – the Web is now the world.'
The list of speakers at this conference is like your dream digital dinner party line-up. Pretty impressive. Some great content on here.